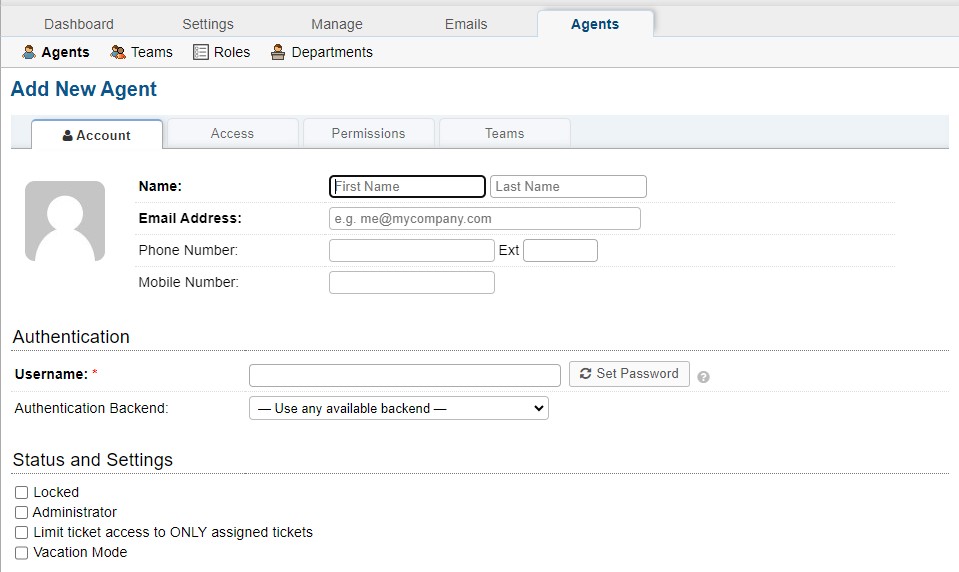 Creating and managing staff accounts in osTicket is essential for assigning responsibilities and managing the support team within your helpdesk system. Here's a step-by-step guide on how to create and manage staff accounts in osTicket:
Creating Staff Accounts:
Login to osTicket: Open your web browser and navigate to your osTicket installation URL. Log in with your administrative credentials.
Access Staff Management: After logging in, click on the "Admin Panel" link in the upper-right corner to access the administrative panel.
Staff Management: In the admin panel, find and click on the "Agents" section. This is where you can manage staff accounts.
Add New Staff Member:

Click on the "Add New Agent" button, typically located at the top of the staff list.
Fill in the required information for the new staff member. This usually includes:

Username: The username for the staff member's login.
Password: Set a secure password for the account.
First Name and Last Name: Staff member's name.
Email Address: Their email address.
Role: Assign a role or permission level (e.g., agent, manager, administrator) to the staff member.
Department: Assign them to a specific support department if applicable.

Optionally, you can configure additional settings like their signature, time zone, and more, depending on your osTicket version.

Save the New Staff Member: After entering the required information, click the "Save" or "Create" button to create the staff account.
Managing Staff Accounts:
Edit a Staff Member:

To edit an existing staff member's details, go to the staff list in the admin panel.
Find the staff member you want to edit and click on their name or username.
Modify the necessary details and click the "Save" button to apply the changes.

Change Password:

If a staff member needs to change their password, they can typically do this by logging in and going to their profile settings. Administrators can also reset passwords for staff members from the admin panel.

Deactivate or Delete a Staff Account:

To deactivate or delete a staff account, go to the staff list in the admin panel.
Find the staff member you want to deactivate or delete.
Typically, there will be an option to deactivate or delete the account. Deactivation usually suspends the account, while deletion permanently removes it.

Manage Roles and Permissions:

In the staff management section, you can also manage roles and permissions for staff members. You can define what each role can and cannot do within osTicket.

Assign Departments:

If you have multiple support departments, you can assign staff members to specific departments to streamline ticket routing.
Remember to regularly review and update staff accounts as needed, especially when team members join or leave your organization or when roles and responsibilities change. Proper staff management ensures efficient support ticket handling in osTicket.